This post originally appeared on our 2017 Kickstarter campaign.
Dear Backers,
I'm excited to share that yesterday our story was on the front page of the Detroit News – Detroit's second-largest newspaper (and the 10th most-read newspaper website in the United States!)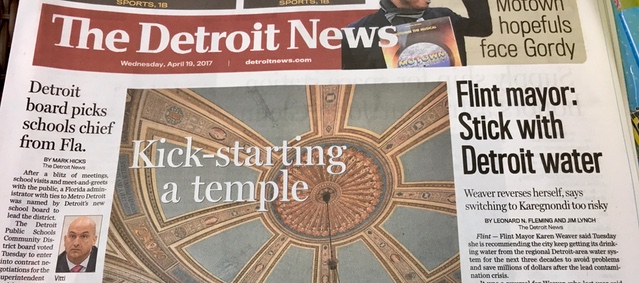 The word is getting out about what we're doing together. At the same time, the building is alive with activity. Walking through the building last night, this is what you would see: The CASOE Group, a theater troupe, is doing drama class and preparing for an upcoming musical. The Detroit Phoenix Center is hosting a coat giveaway sponsored by Detroit Lions, and Breakers Covenant Church International is giving inter-faith historic tours of the building with partners from Temple Beth El. We are building a beautiful future together!
Can we finish out the week with at least $50,000 raised from more than 250 backers?
If we do, we stand a chance at sparking a final sprint to the finish line of our campaign. If not, Kickstarter's all-or-nothing policy means your credit cards don't get charged and we don't raise anything. That would be disastrous, so we're calling on all of our supporters to tell at least 1 friend about this campaignand ask them to pledge what they can.
Can you share the campaign page on your Facebook with a message about why it matters to you?
We're so grateful for your support, and look forward to celebrating with you when this campaign succeeds. Until then: see you at the finish line!
Sincerely,
Justin Wedes
Volunteer Communications Director
Bethel Community Transformation Center